With all the uncertainty surrounding this school year, there is a good chance there will be some type of schooling going on at home, whether that is virtual learning, homeschooling or pod learning at home. If you're looking to set up a dedicated space for your little learner, we have shared our list of recommendations that will hopefully make it easier on you to accomplish. Check out our list below!
Activity Table/Chairs: A big space for projects is a must, and it helps if its not an expensive dining or kitchen table! We like this one below because it is easy to clean/disinfect, comes in a variety of shapes and sizes, and has adjustable legs. Also, these chairs work well for preschool age kids too.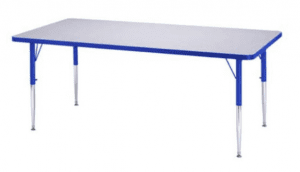 Storage: You'll want to keep supplies nearby, like paper, glue, pencils, crafting supplies, sanitizing wipes, hand sanitizer, etc. We like these cubby drawers below because they can be wiped down easily, and offer plenty of space for everything.
Completed Project Display: When it's time to show off the completed artwork, you'll want somewhere to display it! We like this one that can hold multiple artworks!
Room Divider: If you're like us, and do not have a completely separate room for learning at home, you will likely have to dedicate a portion of a basement, kitchen, den, etc. If you want to create more of a room feel, you can use these room dividers that double as a white board and will also (hopefully!) contain the mess.
Floor mat: Speaking of mess, if you're learning space happens to be in a place with floors that you don't want damaged, then you may want to put down a covering. We like this one to cover hardwood floors and this one for covering carpeting.
Supplies List: Here is a very basic supply list you can use as a starting place:
Construction Paper
Glue
Washable Paints/Paint Brushes
Play Doh
Safety Scissors
Washable markers
Dot Markers
Crayons
Chalk
Easel
Whiteboard markers