Where are you from originally and how long have you lived in town? I grew up in Philadelphia to immigrant parents. I've lived my adult life in Westfield, NJ and own a shop in Summit.
Child(ren) and Age(s)? My daughter Alex is 19 and Amanda is 23. I have a few step kids: Nicole is 30 and just married Mike, Zach is 23 and Sophie is 21.
Favorite things to do with your kids? We love to camp and travel and explore new places and cultures but these days we mostly cook great meals.
Favorite places to eat & shop in the area? Giant shout out to the Summit Farmer's Market! I love all the local choices and the many organic options. It's where I do most of my shopping all summer from vegies to microgreens, flowers, cheeses, empanadas, bread and on occasion bacon. Have you tried Anita's Empanadas (Anita's Baked Wonders), or Cherry Grove Farm and I couldn't survive the winter without my Alpaca socks. Sometimes it is hard to shop as I  am also a vendor at the market.
Favorite form of self care? A great farm (or garden) to table meal with a mojito from my garden mint and a good foot soak with Hyssop Beauty Bath Salts.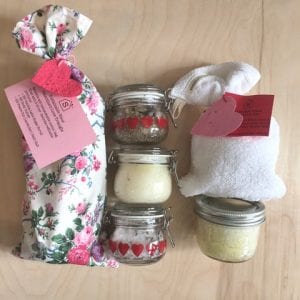 Are you involved in a business venture, a local organization, a creative endeavor, or in the corporate world? Please share!
I am the owner, designer and maker at Sustainable Haus Mercantile, a zero waste, refill shop in Summit NJ (221 Broad St.) that opened last February*. We offer home solutions for kitchen, bath and baby, to create a plastic free, package free, non-toxic lifestyle. While you can refill your shampoo, conditioner, dish soap and  laundry detergent, you can also get refillable make up and beauty care, and much more. I specialize in repurposing used cotton to make everyday napkins, cloth masks, reusable cloth paper towel, wipes, etc. Many of the shop ites are handmade by me and we hjave lots of great eco gifts. Fun facts about the impact of our customers in 2020:
Our reusable masks have diverted up to ¾ million paper masks from production and landfill. (Single use masks are generally a Polypropylene plastic.)

Over 3,000 package free soaps, shampoos and cleaners purchased have diverted an unlimited amount of plastic packaging from landfill or being burned locally.

Up to 20,000 rolls of paper towel or similar products were replaced by reusable wipes and napkins. 64 trees thank you as do the sanitation services!
*Ribbon cutting is finally happening this Feb 13th!
If you could give one tip to fellow Mom Entrepreneurs what would it be? If you can connect something you are passionate about and that makes a difference, then add a little (or a lot) of hard work and flexibility and you will likely have a home run. Don't be afraid to think big. Take a leap. Women do  support women owned businesses.
One thing people would be surprised to know about you…
I have no formal training in sustainability! I have been a lifelong learner and everything I've done so far with Sustainability and the environment has been self-taught. I research and read a good deal. I am a Climate Reality Leader and give talks locally about plastics and sustainability. (My 30 year corporate career did help prepare me for running a business.)
How has this community been instrumental in getting you to where you are now? The local community has been so supportive. Most of our business is still word of mouth and nearly all of our customers are repeat customers. Thank you Chatham and Summit Moms for supporting local and making sustainable choices!!
For more information:
Sustainable Haus Mercantile
221 Broad St
Summit, NJ
Follow along on Instagram @sustainablehaus