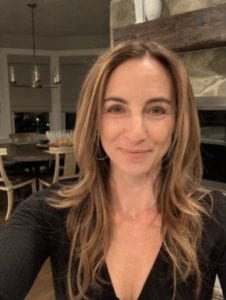 Where are you from originally and how long have you lived in town?
Originally from LI, NY. Been in Summit for 15 yrs
Child(ren) and Age(s)? Ryan – 17 & Emma- 14
Favorite things to do with your kids?
At their ages right now they don't really want to hang out with me but we do have family dinners most nights
Favorite places to eat & shop in the area?
Fiorinos & Willow Street
Favorite form of self care? Working out
Are you involved in a business venture, a local organization, a creative endeavor, or in the corporate world? Please share!
Yes, Savvi. New athleisure line.
If you could give one tip to fellow Mom Entrepreneurs what would it be?
Take the risk, it will be worth it
One thing people would be surprised to know about you…
I am a total introvert and this new business is totally out of my comfort zone.
How has this community been instrumental in getting you to where you are now?
It is a great, supportive community