Meet-A-Mom ~ Davida Hogan
Interior Designer and Modere Social Marketer
Introduce Yourself! 
My name is Davida Hogan and I live in Summit, NJ. I am a former magazine editor turned interior designer. My son is that "kid with the shaggy hair" that Chris Rock gave a baseball to at a Yankee game back in 2014. I never played soccer growing up but find myself on our town soccer club board (same goes for the high school boys volleyball board too). I love to cook, and I am a fitness junkie and get my fill at Soul Cycle and SLT.
Kids?  How many?  Ages?
I have two children: a 15-year-old son who is a sophomore in high school and a 12-year-old daughter who is in seventh grade.
Where are you from originally and how long have you lived in Union County?
I grew up in New York City and moved back there after college. We moved to Union County ten years ago when my son started first grade.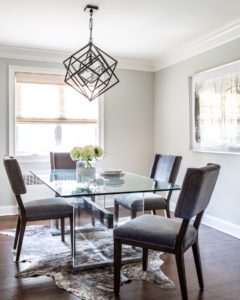 Are you involved in a business venture, a local organization, a creative endeavor, or in the corporate world? Please share!
I run my own independent residential interior design firm called Edited Style (a nod to my former career as a magazine decorating editor).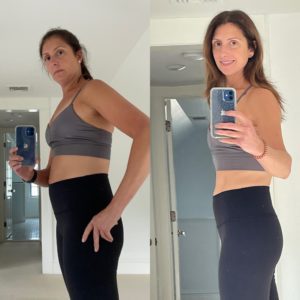 I also recently joined Modere as a social marketer. I absolutely fell in LOVE with our liquid collagen, which has smoothed my wrinkles and helped me drop almost 20 lbs (check out my before and after pictures). A major goal of mine is to help other women feel and look their best by sharing our amazing products. Modere is a clean lifestyle brand, we have everything from toothpaste to our award-winning liquid collagen. Our Biocell liquid collagen helps smooth wrinkles, strengthens hair and nails, promotes healthy joints, and is clinically proven to increase skin's hyaluronic content by 6000% in 28 days. Our Trim collection is the same collagen with added clinical strength CLA which helps to break down fat cells and stop them from forming. We have an amazing, Black Friday level sale on Trim collections starting on April 12th.
Favorite things to do in town/Union County?
Well, when I'm not on a soccer or lacrosse field, my husband and I like to go to the Summit Farmer's Market on Sundays. We also like to walk and hike in the Watchung Reservation.
What is your favorite local restaurant?
We like Limani in Westfield for seafood. The Publick House in Mountainside is a great place to go for a drink. Pizza Vita in Summit has the best two for one pizza night on Tuesdays – my kids love it!
What is the best advice you have been given about parenting or life in general?
Say yes to new things until there is a reason to say no, and don't be afraid to take the first scary step. I never would have thought that I'd go back to design school as a 30-something mom of two and actually finish and get a second degree! When I look back, I think "how did I ever do it?" I did it one day at a time, just putting one foot in front of the other. It sounds cliché, but it's true!
 What are your parenting goals?
To raise independent, confident kids who can stand on their own two feet and figure things out for themselves.
 Tell us the song or artists that put you in a good mood! What song to clean to? 😊
Well, I grew up in the 80s and 90s in New York City, so I love old school hip hop like A Tribe Called Quest!
What is the go to piece of clothing in your wardrobe that you CANNOT live without?
My Pop Jeans from AYR. I've now repurchased them three times. I'm tall and this brand comes in lengths!
Best Show/Series You Are Currently Watching or Just Watched?
I'm currently watching the second season of Cheer, and just finish The Tinder Swindler and Becoming Anna. All are on Netflix and I highly recommend them.
Favorite Book You've Read in the Last Few Years?
I just finish a Very Nice by Marcy Dermansky. It's a breezy, entertaining read. Next up is Who Gets in and Why by Jeffrey Selingo because we're starting to think about college for my son, yikes!
We love supporting local businesses. Can you please share your favorite places in your area!
My Love Story in Summit has the best jewelry and gifts.
I love the clothes at Alba Boutique in Summit, I always find the perfect dress or top there!
I do all my printing at Liss in Summit. The guys there are really helpful.
Meet-A-Mom - Davida Hogan
Meet-A-Mom - Davida Hogan - Modere Social Markerter
Meet-A-Mom- Davida Hogan - Mom of two teens
Meet-A-Mom- Davida Hogan - Modere Social Marketer
Meet-A-Mom - Davida Hogan - Interior Designer
Meet-A-Mom - Davida Hogan - Modere Social Marketer