As moms, we're always looking for hacks for problems big and small – but we can't mess around with baby formula!  🍼 
While a shortage continues, get your advice from your trusted professionals – like child's doctor.
We spoke with Dr. Krissy Satchi, a pediatrician in Danbury, CT, who warns that some of the solutions—like watering down formula—may be dangerous. 🏥 
Here are some more red flags.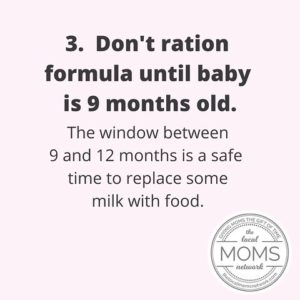 Until the shortage is over, consider these 4 ways to find formula safely:
Order Directly –

Dr. Satchi suggests looking at https://www.enfamil.com/baby-formula-comparison-chart/ which gives suggestions for formula swaps (check with your pediatrician before switching.) Your particular brand's website may also have guidance.
Check In Your Facebook Moms' Group. –

Moms can keep an eye out and post if they spot any – or may be able to share.
Consult Your Doctors –

Ask your hospital maternity ward and/or pediatrician for samples. Your pediatrician may also be able to order certain formulas that are medically necessary. 
Think Local –

Check with your local pharmacy or store – they may be able to share when shipments come in.
#formulashortage #babyformula #thelocalmomsnetwork #momssupportingmoms #parenting